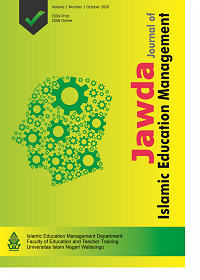 Deskripsi tentang jurnal ini masih dalam bentuk draft, belum final, karena sedang disusun dalam bahasa Inggris dan akan kami cantumkan setelah selesai penyusunan deskripsi jurnal ini
Jawda: Journal of Islamic Education Management adalah jurnal yang dterbitkan oleh Program Studi Manajemen Pendidikan Islam Universitas Islam Negeri Walisongo yang memuat disiplin ilmu manajemen pendidikan sepesialisasi Islam. Jurnal ini terbit dua kali dalam setahun di bulan April dan Oktober.
Current issue is unavailable.
No announcements have been published.
contact_mail Principal Contact
Islamic Education Management Department Faculty of Education and Teacher Training Universitas Islam Negeri Walisongo
Jl. Prof. Dr. Hamka Kampus II UIN Walisongo
Ngaliyan Semarang Indonesia
Phone: (024)760455