folder_shared Author Index
A B C D E F G H I J K L M N O P Q R S T U V W X Y Z All
A
Abdurahman, Dede
, Graduate Program in Chemistry Education, UIN Sunan Gunung Djati Bandung
Abdussalam, Moch
, Universitas Yarsi
Abdussalam, Moch
, Yarsi University
Adawiah, Syarifah Rabiatul
, Universitas Islam Negeri Alauddin Makassar
Adilla, Farah
, Universitas Udayana
Admaja, Lukman
, Institut Teknologi Sepuluh Nopember (ITS), Surabaya
Afidin, Iseh Muhammad Zaenal
, Universitas Islam Negeri Walisongo Semarang
Aisyah, Aisyah
, Universitas Islam Negeri Alauddin Makassar
Al Jabbar, Jauharuddin Luthfi
, Universitas Islam Negeri Raden Fatah Palembang
Albab, Ulil
, Jurusan Kimia, Fakultas Sains dan Teknologi, UIN Walisongo Semarang
Amelia, Rizki Nor
, Pendidikan Kimia, FMIPA, Universitas Negeri Yogyakarta
Amin, Ahmad Faqih
, Sekolah Menengah Pertama Al Isryad Al Islamiyah Boarding School Purwokerto
Andriani, Titik
, Universitas Islam Negeri Alauddin Makassar
Anliza, Syarah
, Poltekkes Kemenkes Banten
Apriyanti, Eny
, Universitas Pandanaran
Ardian, Maulana Nur
, Jurusan Teknologi Pangan Fakultas Pertanian UNSOED
Ardiyanto, Nova Restu Nur
, Universitas Islam Indonesia
Ariyatun, Ariyatun
, Program Magister Pendidikan Kimia Universitas Negeri Semarang
Asrilya, Nur Jannah
, Universitas Sebelas Maret, Surakarta
Astuti, Sri Rejeki Dwi
, Universitas Negeri Yogyakarta
Ayyubi, Shalahudin Nur
, Teknik Kimia, Universitas Diponegoro, Semarang
Aziz, Abdul
, Program Sarjana Jurusan Kimia Fakultas Sains dan Teknologi UIN Walisongo
Azizah, Tharra A.N.
, Sekolah Menengah Atas Al Irsyad Al Islamiyyah Boarding School Purwokerto
Azizati, Zidni
, Jurusan Kimia Fakultas Sains dan Teknologi UIN Walisongo Semarang
Azizati, Zidni
, Universitas Islam Negeri Walisongo Semarang
1 - 25 of 26 Items
1
2
>
>>
ACCREDITATION

Accredited by
KemenristekBRIN based on
Decree of Dirjen Risbang Ministry of Education and Culture of Republic of Indonesia,
Nb. 200/M/KPT/2020
on "3rd Level"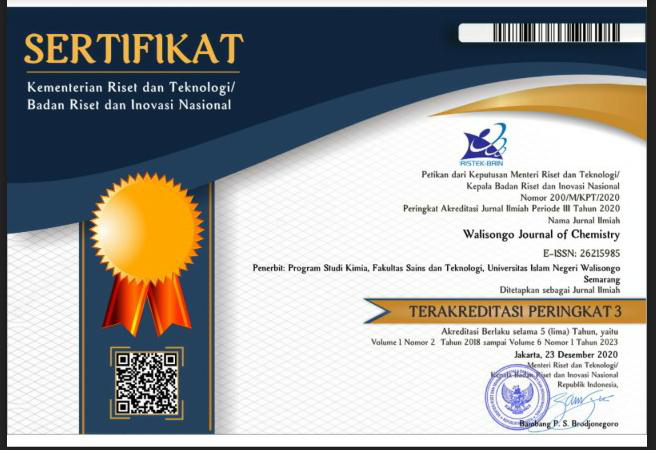 JOURNAL STATISTICS

WJC Visitors