Journal Information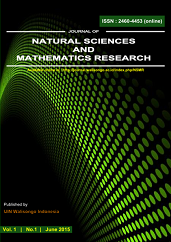 Journal of Natural Sciences and Mathematics Research, an international journal, provides a forum for publishing original research articles, review articles from contributors, and novel technology news related to natural sciences and mathematics research.
Scientific articles dealing with fundamental sciences, material sciences, mathematics, materials characterization, etc. are particularly welcome. The journal encompasses research articles, original research reports, reviews, short communications, and scientific commentaries in fundamental sciences and mathematics including fundamental sciences, fundamental physics, fundamental chemistry, fundamental biology, mathematics, applied sciences, applied physics, applied chemistry, applied biology, applied mathematics, and materials characterization.
This journal has been indexed by: 
Vol 8, No 2 (2022): December
Published: 2022-12-31
chrome_reader_mode Table of Contents
Original Research Articles
Abstract: 64 Times
PDF: 47 Times

59-65

Abstract: 48 Times
PDF: 56 Times

66-74

Abstract: 80 Times
PDF: 38 Times

75-83

Abstract: 43 Times
PDF: 35 Times

84-93

Abstract: 45 Times
PDF: 67 Times

94-102

Abstract: 45 Times
PDF: 37 Times

103-110

Abstract: 71 Times
PDF: 41 Times

111-119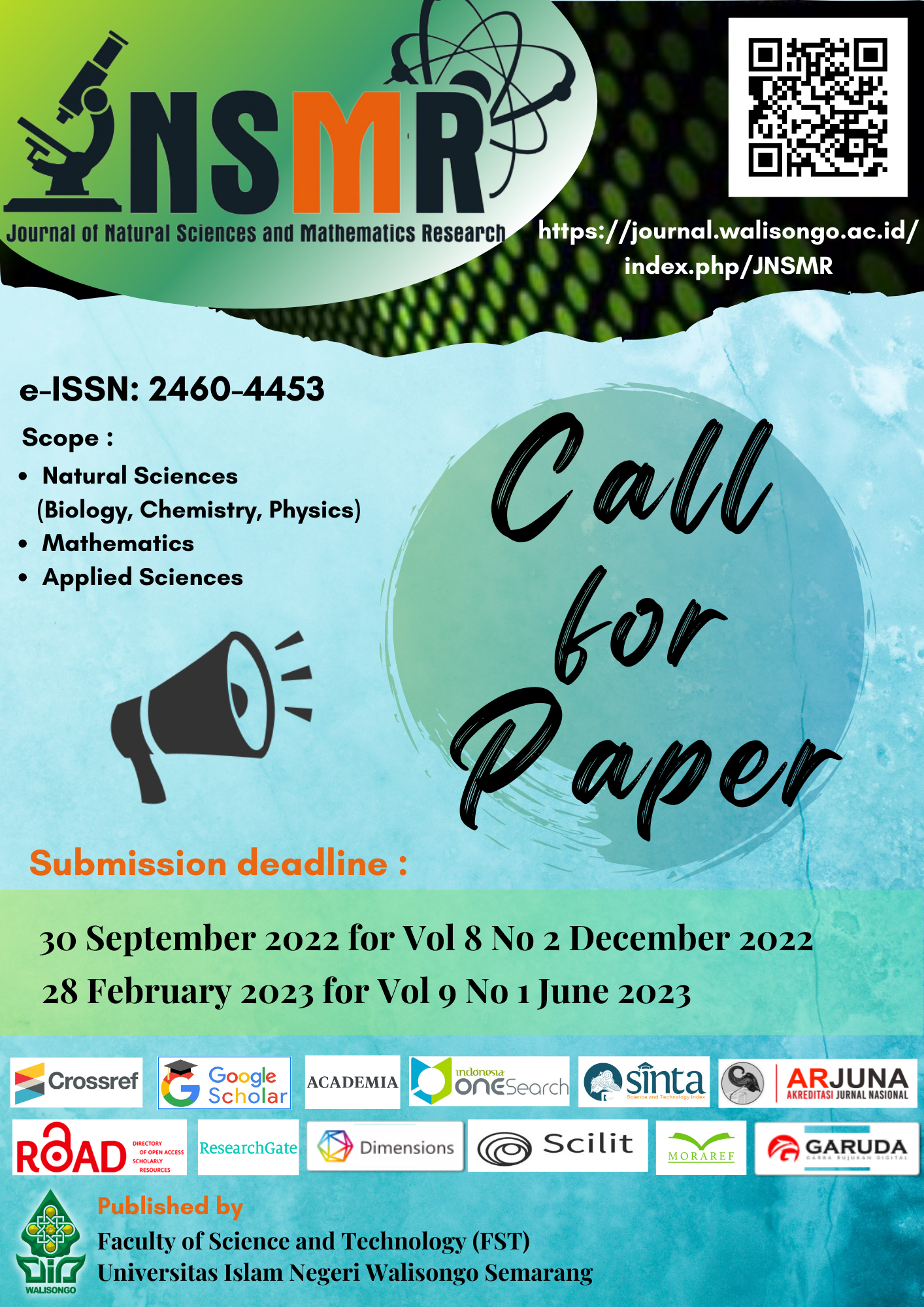 CALL FOR PAPER
The Journal of Natural Sciences and Mathematics Research (JNSMR) of the Faculty of Science and Technology, Universitas Islam Negeri Walisongo Semarang, invites all academics, researchers, and practitioners to submit their writings and best scientific works.
Manuscripts are planned to be published in :
Volume 8 No. 2, December 2022
Volume 9 No. 1, June 2023
For more information, please visit : https://journal.walisongo.ac.id/index.php/JNSMR/index
Best Regards,
Dr. Hamdan Hadi Kusuma S.Pd., M.Sc.
Editor in Chief
contact_mail Principal Contact
Editor In Chief
Faculty of Science & Technology, Universitas Islam Negeri Walisongo Semarang, Indonesia

Editorial Office of Journal Of Natural Sciences and Mathematics Research
Faculty of Science & Technology, Universitas Islam Negeri Walisongo Semarang, Indonesia
Jl. Prof. Hamka (Kampus III), Ngaliyan, Semarang, Indonesia 50185
E-mail: jnsmr@walisongo.ac.id