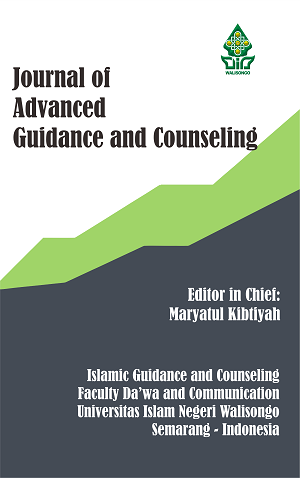 Journal of Advanced Guidance and Counseling
is a research journal published by Department Islamic Guidance and Counseling, Faculty Da'wa and Communication, Universitas Islam Negeri Walisongo, Semarang, Indonesia, published twice per year. This journal is intended to be the journal for publishing articles reporting the results of research on Guidance and Counseling.
This journal invites manuscripts in the various topics include, but not limited to, functional areas of 1) Islamic Guidance and Counseling; 2) Child and Adolescent Counseling; 3) Adult and Elder Counseling; 4) Family Counseling; 5) School Counseling; 6) Higher Education Counseling; 7) Crisis and Risk Counseling; 8) Occupational Counseling; 9) Cyber Counseling; 10) Educational Psychology; 11) Counseling and Guidance; 12) Rehabilitation Counseling; 13) Technology usage in Counseling; 14) Counseling and Guidance for Special Population.
 Organization Partners

Journal of Advanced Guidance and Counseling collaborated with Association of Islamic Guidance and Counseling Experts (Perkumpulan Ahli Bimbingan dan Konseling Islam) (Certificate, website PABKI)
E-ISSN: 2746-1521 ISSN (print): 2746-1513
Indexed by:
Vol 3, No 1 (2022)
Published: 2022-06-29
chrome_reader_mode Table of Contents
Articles
Abstract: 21 Times
PDF: 9 Times

1-13

Abstract: 16 Times
PDF: 11 Times

14-31

Abstract: 30 Times
PDF: 4 Times

32-53

Abstract: 19 Times
PDF: 11 Times

54-69

Abstract: 33 Times
PDF: 19 Times

70-93
Advanced Guidance and Counceling invites the authors to submit their manuscript for July 2021 and Desember 2021. Before submitting, we encourage you to read and confirm your manuscript to the Author Guidelines and Manuscript Template. Submit your manuscript to Submission Menu. If you have any questions, please feel free to contact the Managing Editor (abdulkarim@walisongo.ac.id)
contact_mail Principal Contact
Managing Editor
Fakultas Dakwah dan Komunikasi UIN Walisongo Semarang