Journal Information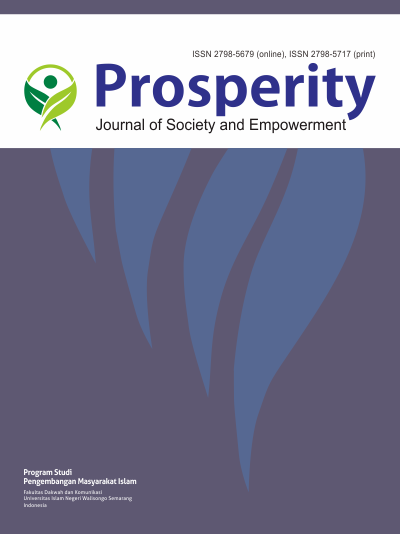 Prosperity: Journal of Society and Empowerment
, is a peer-reviewed journal, published biannually by Program Studi Pengembangan Masyarakat Islam, Fakultas Dakwah dan Komunikasi, Universitas Islam Negeri Walisongo Semarang, Indonesia.
Prosperity: Journal of Society and Empowerment is an open access, and peer-reviewed journal that focuses on the dynamic issues of society and empowerment. The goal of this journal is community development in various fields of life especially in empowerment.
Call for Papers
Prosperity: Journal of Society and Empowerment warmly welcomes contributions from scholars, researchers, and students of related disciplines.  We invite scientists, researchers, and students to write an article in Prosperity: Journal of Society and Empowerment for 2023 edition Number 2. Please follow the Author Guidelines and download the Article Templates.
______________
Prosperity has been indexed by:
Vol 2, No 2 (2022): December
Published: 2022-12-31
All articles in this issue include authors from 2 countries of origin (Indonesia and Pakistan)
chrome_reader_mode Table of Contents
Articles
Abstract: 144 Times
PDF: 106 Times

74-85

Abstract: 123 Times
PDF: 72 Times

86-99

Abstract: 75 Times
PDF: 64 Times

100-106

Abstract: 83 Times
PDF: 49 Times

107-121

Abstract: 100 Times
PDF: 51 Times

122-135

Abstract: 130 Times
PDF: 55 Times

136-148
Announcement is disabled for this moment.
contact_mail Principal Contact
Editor in Chief
Universitas Islam Negeri Walisongo Semarang