SAWWA: Jurnal Studi Gender – is published by the Center for Gender and Child Studies (Pusat Studi Gender dan Anak) LP2M, Universitas Islam Negeri Walisongo, Semarang. Launched in 2006, the journal has been issued two times a year every April and October. Sawwa invites scholarly articles on gender and child studies from multiple disciplines and perspectives, including religion, education, psychology, law, social studies, etc.
Journal SAWWA has been accredited based on Ministry Decree by the Directorate General of Research Strengthening and Development No. 30/E/KPT/2018, dated on October 24, 2018, valid for 5 years.
ISSN 1978-5623 (print version)
ISSN 2581-1215 (electronic/online version)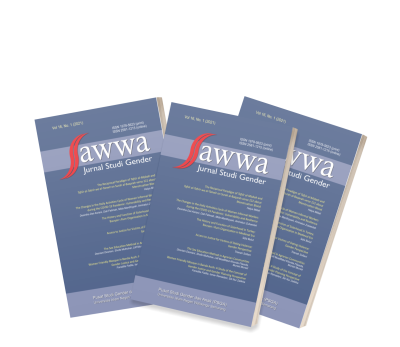 Announcements
No announcements have been published.
Vol 13, No 2 (2018): Oktober
Table of Contents
Articles
| | | |
| --- | --- | --- |
| | Mochamad Parmudi, Tulus Warsito, Sidik Jatmika | 143-164 |
| | | |
| --- | --- | --- |
| | Paulus Eko Kristianto | 165-178 |
| | | |
| --- | --- | --- |
| | Lucky Ade Sessiani | 203-236 |
| | | |
| --- | --- | --- |
| | Rika Saraswati, V Hadiyono | 237-260 |
| | | |
| --- | --- | --- |
| | Leony Sondang Suryani, Ani Purwanti | 281-296 |