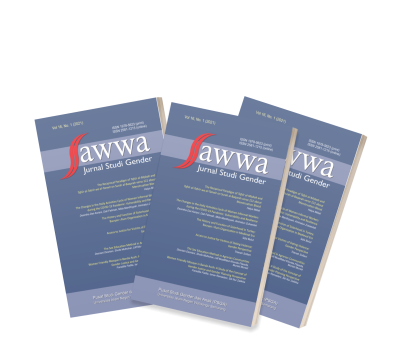 SAWWA: Jurnal Studi Gender – is published by the Center for Gender and Child Studies (Pusat Studi Gender dan Anak) LP2M, Universitas Islam Negeri Walisongo, Semarang. Launched in 2006, the journal has been issued two times a year every April and October. Sawwa invites scholarly articles on gender and child studies from multiple disciplines and perspectives, including religion, education, psychology, law, social studies, etc.
Journal SAWWA has been accredited based on Ministry Decree by the Directorate General of Research Strengthening and Development No. 30/E/KPT/2018, dated on October 24, 2018, valid for 5 years (2021).
ISSN 1978-5623 (print version)
ISSN 2581-1215 (electronic/online version)
Vol 15, No 2 (2020): October
Published : 2020-10-31
chrome_reader_mode Table of Contents
Articles
Announcement is disabled for this moment.
contact_mail Principal Contact
Editor in Chief
Universitas Islam Negeri Walisongo Semarang
Lembaga Penelitian dan Pengabdian Kepada Masyarakat (LP2M)
Jl. Walisongo No. 3-5 Ngaliyan, Kota Semarang, Jawa Tengah 50185

---

Dear Colleagues,
On behalf of SAWWA: Jurnal Studi Gender, we pleased to announce that the journal is now open for submission. We warmly invite you to contribute to our journal.
This journal focuses on topics related to gender and child issues. We aim to disseminate research and current developments on these issues. We invite manuscripts on gender and child-topics in any perspective, such as religion, economics, culture, history, education, law, art, communication, politics, and theology, etc. We look forward to having contributions from scholars and researchers of various disciplines.
Requirements:
The manuscript has never been published or is being submitted to another journal.
The manuscript must be based on research on gender studies.
The manuscript is an original work, no plagiarism.
The manuscript must follow the Author Guidelines and the style of the article (Article Template).
References must be written in full by mentioning the page being referenced.
Citations and references should be compiled using the Mendeley Reference Manager, with footnotes (Chicago Manual of 17th Style - full note).
The manuscript must be submitted online.