Journal Details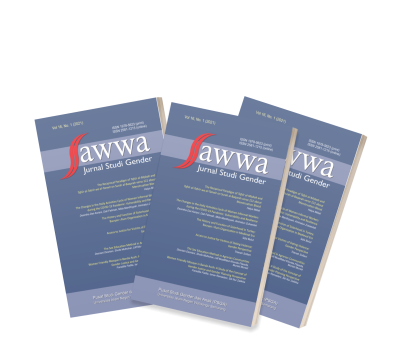 Journal Description
---
Sawwa: Jurnal Studi Gender (if translated into English as Sawwa: Journal of Gender Studies) is a peer-reviewed journal that focuses on gender and child issues. It aims to disseminate relevant knowledge and to provide a framework for social transformation in gender equality and child protection. It welcomes submissions on gender and child issues from any perspectives, including religion, economics, feminism, culture, history, education, law, art, communication, and politics.
Accreditation and Indexing
---
Sawwa: Jurnal Studi Gender is published by the Center for Gender and Child Studies (Pusat Studi Gender dan Anak) LP2M, Universitas Islam Negeri Walisongo, Semarang. Launched in 2006 in printed version, and available online since 2012. It has been accredited by the Ministry of Education, Culture, Research and Technology of the Republic of Indonesia, based on 
Decree No. 158/E/KPT/2021
 dated December 27th, and is valid until 2025.
Vol 17, No 2 (2022): October
Published: 2022-10-30
chrome_reader_mode Table of Contents
Articles
Abstract: 218 Times
PDF: 187 Times

145-172

Abstract: 157 Times
PDF: 135 Times

173-192

Abstract: 143 Times
PDF: 78 Times

193-220

Abstract: 272 Times
PDF: 70 Times

221-246

Abstract: 417 Times
PDF: 196 Times

247-266
Dear Colleagues,
On behalf of SAWWA: Jurnal Studi Gender, I am pleased to announce that the journal is now open for submission. We warmly invite you to contribute in our journal.
This Journal focuses on topics related to gender and child issues. We aim to disseminate research and current developments on these issues. We invite manuscripts on gender and child topics in any perspectives, such as religion, economics, culture, history, education, law, art, communication, politics, and theology, etc. We look forward to having contributions from scholars and researchers of various disciplines.
SAWWA: Jurnal Studi Gender has been accredited as a scientific journal by The Ministry of Research, Technology and Higher Education, Republic of Indonesia, No. 30/E/KPT/2018.
contact_mail Principal Contact
Editor in Chief
Universitas Islam Negeri Walisongo Semarang
Lembaga Penelitian dan Pengabdian Kepada Masyarakat (LP2M)
Jl. Walisongo No. 3-5 Ngaliyan, Kota Semarang, Jawa Tengah 50185