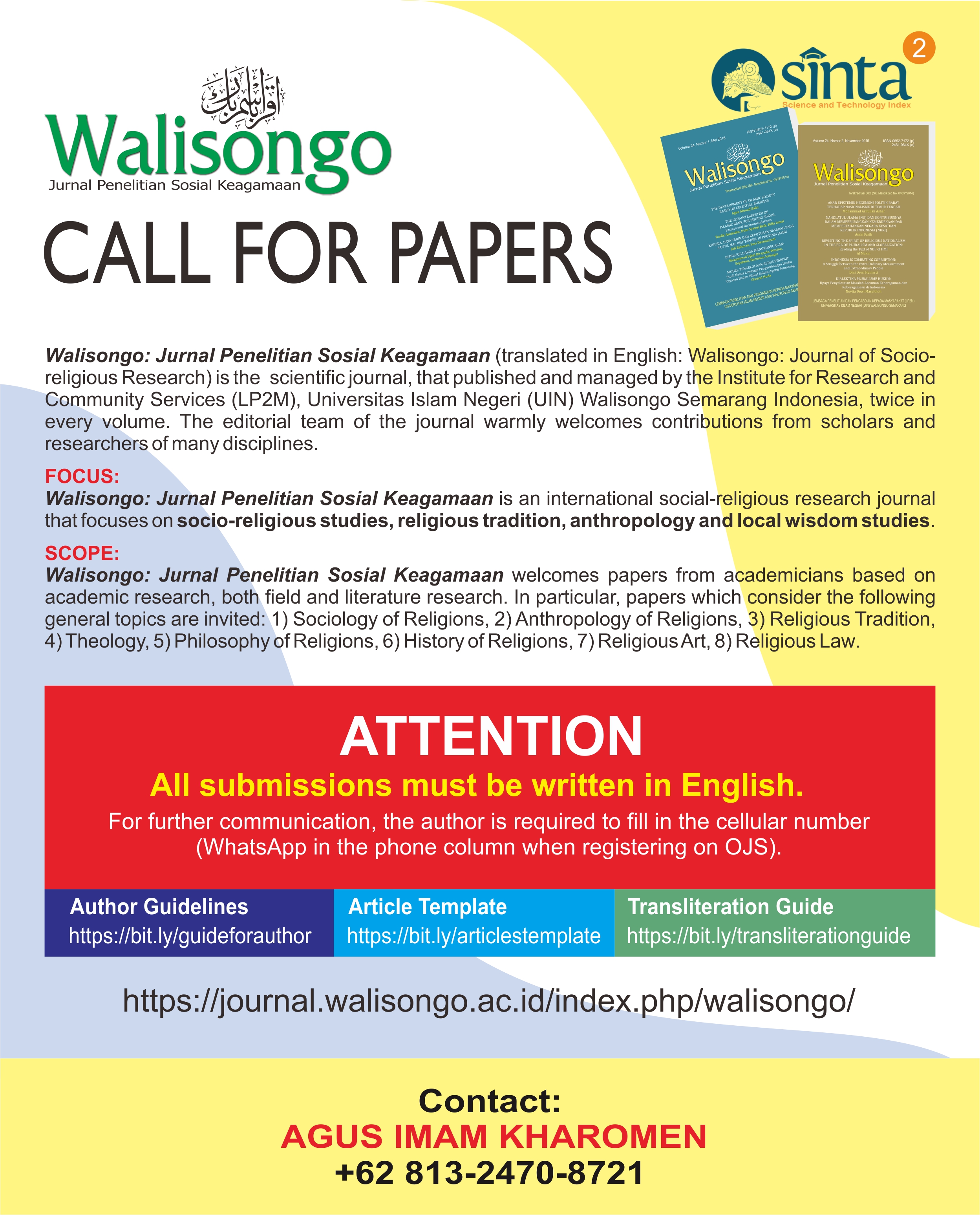 Journal Information

Walisongo: Jurnal Penelitian Sosial Keagamaan (translated in English: Walisongo: Journal of Socio-religious Research) is an international social-religious research journal that focuses on social sciences, religious studies, and local wisdom. This journal intended to communicate original research and current issues on the subject. The subject covers literary and field studies with various perspectives, i.e., Philosophy, Culture, History, Education, Law, Art, Theology, Sufism, Ecology and much more.
The Institute for Research and Community Services (LP2M), Universitas Islam Negeri (UIN) Walisongo Semarang Indonesia, publishes and manages this journal twice in every volume. The editorial team of the journal warmly welcomes contributions from scholars and researchers of many disciplines.
Walisongo: Jurnal Penelitian Sosial Keagamaan has been accredited as a scientific journal by The Ministry of Education and Culture, the Republic of Indonesia, on the 2nd level (SINTA 2) on Decree of Mendikbud No. 040/P/2014, and 23/E/KPT/2019. valid until Vol. 31 No. 2 (2023).
________
| CURRENT ISSUE | ARCHIVES | 
Vol 29, No 2 (2021)
Published: 2021-11-30
chrome_reader_mode Table of Contents
Articles
Abstract: 486 Times
PDF: 262 Times

181-210

Abstract: 180 Times
PDF: 83 Times

211-230

Abstract: 27 Times
PDF: 8 Times

231-254
No announcements have been published.
contact_mail Principal Contact
Editor in Chief
Universitas Islam Negeri Walisongo Semarang - Indonesia
Institute for Research and Community Services (LP2M)
Universitas Islam Negeri Walisongo Semarang
Jl. Prof. Hamka - Rectorate Building, 3rd Floor Tambakaji Ngaliyan 50185 Semarang, Central Java, Indonesia