Journal Information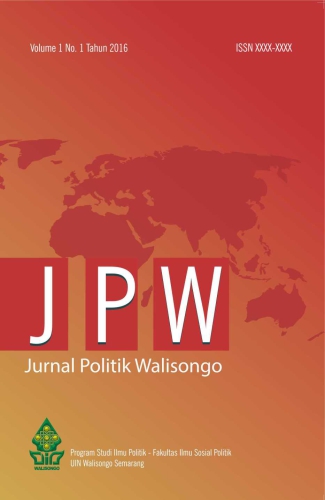 | | |
| --- | --- |
| Journal Title | JPW (Jurnal Politik Walisongo) |
| Initial | JPW |
| Abbreviation | JPW (Jurnal Polit. Walisongo) |
| Frequency | 2 issues per year (April and October) |
| DOI Prefix  | 10.21580/jpw |
| ISSN | 2503-3204 (online); 2503-3190 (printed) |
| Subject Area | Social Sciences (Political Science and International Relations) |
| Editor-in-Chief | Nur Syamsudin     |
| Citation Analysis | Dimensions | Google Scholar  |
JPW (Jurnal Politik Walisongo) is published by the Political Science Study Program - Faculty of Social and Political Sciences, Universitas Islam Negeri Walisongo Semarang, Central Java Indonesia. It specializes in Indonesian political science. It is intended to communicate original research and current issues on the subject. subjects include textual studies and field research with different perspectives of philosophy, law, sociology, anthropology, economics, history, education, and more.
Vol 4, No 1 (2022)
Published: 2022-04-30
chrome_reader_mode Table of Contents
Articles
Abstract: 171 Times
PDF: 210 Times

1-23

Abstract: 216 Times
PDF: 108 Times

24-39

Abstract: 155 Times
PDF: 142 Times

40-67

Abstract: 89 Times
PDF: 65 Times

68-90

Abstract: 63 Times
PDF: 99 Times

91-114

Abstract: 81 Times
PDF: 40 Times

115-146
No announcements have been published.
contact_mail Principal Contact
Editor in Chief
Jurnal Politik Walisongo, UIN Walisongo Semarang

JPW (Jurnal Politik Walisongo)
Kantor FISIP Jl. Prof. Dr. Hamka Km.4 Ngaliyan Semarang, email: jpw@walisongo.ac.id
Telp. (024) 7606405.