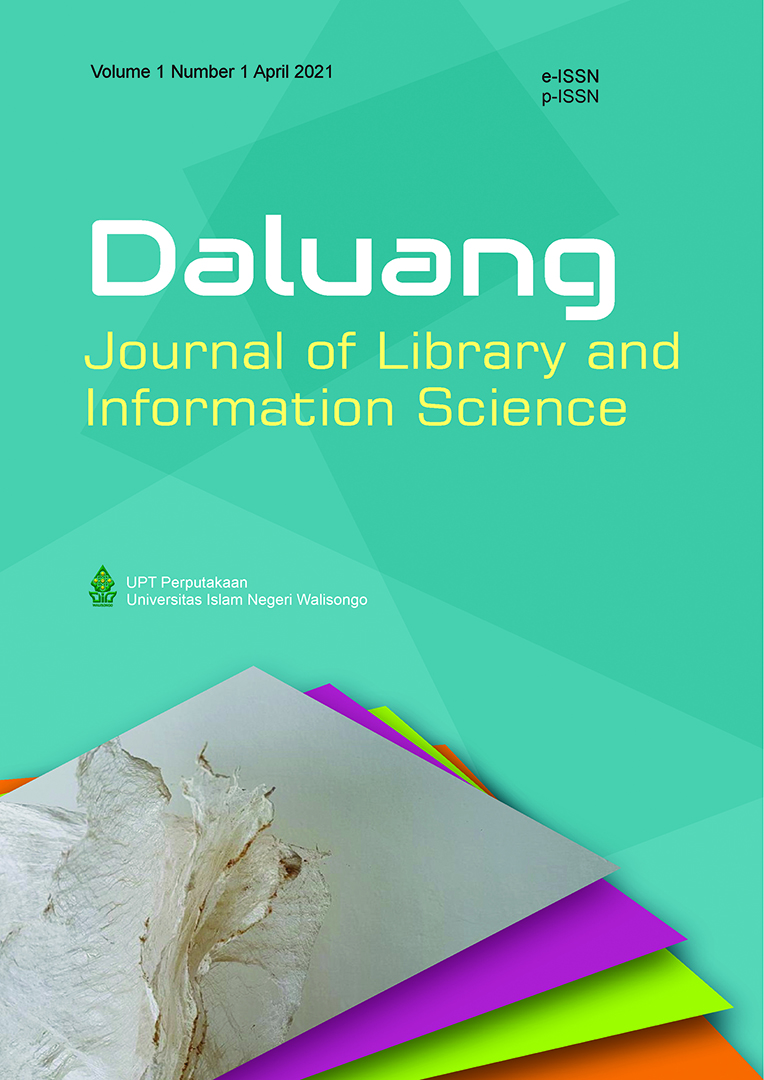 Daluang: Journal of Library and Information Secience is published by UPT Perpustakaan Universitas Islam Negeri Walisongo. This journal publishes articles focusing on problems and issues concerning to library and information science. This journal provides opportunities for authors to present the results of original research articles, review articles, and best practice in Digital Library and Repositories, Documentation System, Information and Media Preservation, Information Policy, Information Services, Library and information technology, Library Management, Media and Information Literacy, Organization of Information, Scholarly Communication, Scientometrics.
Articles received will be peer-single blind review. Decision on manuscript accepted or not is decided by the Editor in Chief based on the comments of reviewers in the forum session of the Board of Editors.

Librarian, experts in library technology, university lecturers and students in librarianship, researcher in librarianship, and other professionals are very welcome to write in our journal.
Please see our Author Guidelines for more information on article submission. If you require further information or help, feel free to contact us.
Vol.1 No.1 April 2021
Published : 2021-05-31
chrome_reader_mode Table of Contents
Research Articles
Abstract : 150 Times
PDF : 325 Times

1-9

Abstract : 273 Times
PDF : 382 Times

10-19

Abstract : 76 Times
PDF : 27 Times

20-28

Abstract : 174 Times
PDF : 198 Times

29-41

Abstract : 238 Times
PDF : 157 Times

42-51

Abstract : 87 Times
PDF : 38 Times

52-58
Editorial
No announcements have been published.
contact_mail Principal Contact
UPT Perpustakaan Universitas Islam Negeri Walisongo

Jl. Prof. Dr. Hamka Km. 2 (Kampus 3) Ngaliyan, Semarang, Jawa Tengah, indonesia, 50185