Journal Title
Islamic Communication Journal
Abbreviation
Islam. Commun. J.
Short Title
ICJ
Language
English (preferred); Indonesian
ISSN

2615-3580 (Online); 

2541-5182 (Print)
Frequency
2 issues per year 
DOI Prefix
10.21580
National Accreditation
Sinta 3

Editor in Chief

Adeni

Publisher

Department of Islamic Communication and Broadcasting, Faculty of Da'wah and Communication, Universitas Islam Negeri Walisongo Semarang.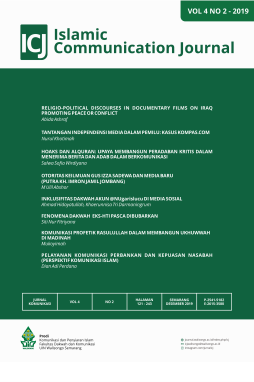 Islamic Communication Journal is a double-blind peer-reviewed publication that receives articles in the form of empirical research and the conceptual/theoretical studies on Islamic communication. Islamic Communication Journal focuses on disseminating all studies about Islam and communication with the scope of study on: (1) the development of Islamic communication science; (2) Islamic media (old and new media); (3) da'wah, broadcasting, and journalism; (4) Islam, communication/media, and social changes; (5) Islam, communication, and community development; (6) Islam and public relations; (7) Islam and political communication;  and (8) virtual/online religion.
The Islamic Communication Journal has been accredited by the Ministry of Research and Technology/National Research and Innovation Agency of the Republic of Indonesia and obtained the third rank (SINTA 3) in 2019 based on Decree No. 28/E/KPT/2019, valid until 2023. This journal has been indexed in several databases such as Dimensions, Google Scholar, Crossreff, GARUDA, Open AIRE, ROAD, BASE. etc.
This journal has been indexed by:
Vol 7, No 1 (2022)
Published: 2022-06-13
chrome_reader_mode Table of Contents
Articles
Abstract: 139 Times
PDF: 62 Times

1-18

Abstract: 127 Times
PDF: 53 Times

19-34

Abstract: 113 Times
PDF: 57 Times

35-52

Abstract: 60 Times
PDF: 29 Times

53-76

Abstract: 46 Times
PDF: 27 Times

77-88

Abstract: 74 Times
PDF: 27 Times

89-112

Abstract: 52 Times
PDF: 19 Times

113-128

Abstract: 68 Times
PDF: 25 Times

129-146
Islamic Communication Journal invites authors and researchers to submit their manuscripts for Vol. 7 No. 2 (September 2022).
Manuscripts written in English are very preferred to be published. Before submitting, please adjust you manuscript with the Author Guidelines and Manuscript Template.
If you have any questions, don't hesitate to contact the Editor in Chief (WA: 0823-2567-6332)
contact_mail Principal Contact
Editor in Chief
Universitas Islam Negeri Walisongo, Semarang
Jl. Prof. Dr. H. Hamka, Kampus III, Ngaliyan Semarang