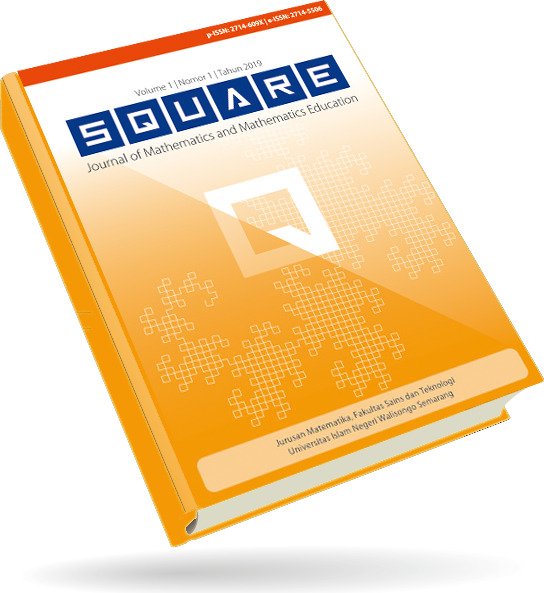 Square : Journal of Mathematics and Mathematics Education diterbitkan oleh Jurusan Matematika Fakultas Sains dan Teknologi UIN Walisongo Semarang. Jurnal ini mempublikasikan artikel dalam bidang pendidikan matematika, yang meliputi pembelajaran matematika, evaluasi pembelajaran matematika, metode pembelajaran matematika, pengembangan alat peraga matematika, kajian kualitatif dalam pembelajaran matematika, etnomatematika, konten kesatuan ilmu pengetahuan (unity of sciences) dalam pembelajaran, serta kajian ilmu matematika murni yang meliputi Analisis Real, Geometri, Aljabar, Matematika terapan, Komputasi, Statistika
Mulai terbitan tahun 2020,
Square : Journal of Mathematics and Mathematics Education
terbit dua kali dalam setahun, pada bulan April dan Oktober. Jurnal ini sudah tersedia dalam versi online dan cetak sejak terbitan tahun pertama di tahun 2019 (p-ISSN: 2714-609X, e-ISSN: 2714-5506). Semua proses publikasi dilakukan secara online.
Vol 2, No 2 (2020)
Published : 2020-10-26
chrome_reader_mode Table of Contents
Articles
No announcements have been published.