JEC : Journal of Educational Chemistry
is a journal managed by Program Studi Pendidikan Kimia Fakultas Sains dan Teknologi Universitas Islam Negeri Walisongo Semarang (the Chemistry Education Department of Science and Technology Faculty, Walisongo State Islamic University).
This Journal aims to accommodate all the writings of theoretical studies and research in the field of chemical education. This journal is published twice a year. Researchers and educational practitioners are welcome to disseminate their writings through this journal. Scope of writings published in this journal include:
Learning chemistry
Evaluation of chemistry education
Chemistry education policy
Integrating islamic value in chemistry education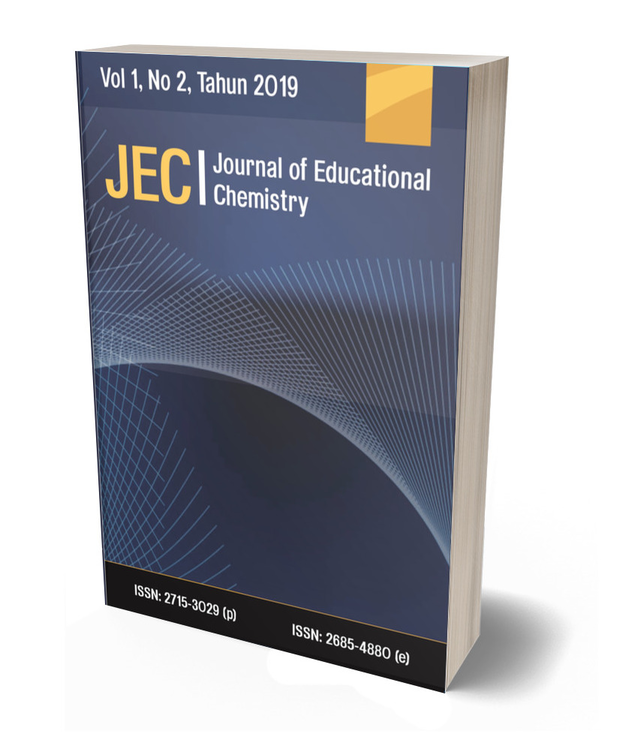 Announcements
Call for Paper

 

Contact Person

Teguh Wibowo

+6285640307383

Posted: 2020-08-03
More...
Vol 2, No 1 (2020)
Table of Contents
Articles
| | | |
| --- | --- | --- |
| | Anggi Desviana Siregar | 1-8 |
| | | |
| --- | --- | --- |
| | Friska Juliana Purba, Kelly Sinaga, Debora S Sitinjak, Candra Y Tahya, Karnelasatri Karnelasatri | 9-17 |
| | | |
| --- | --- | --- |
| | Budiman Prastyo, Suwahono Suwahono, Ervin Tri Suryandari | 18-25 |
| | | |
| --- | --- | --- |
| | Ariyatun Ariyatun, Dissa Feby Octavianelis | 33-39 |