Journal of Educational Chemistry (JEC)
| | |
| --- | --- |
| Journal Title | Journal of Educational Chemistry (JEC) |
| Abbreviation | J. Educ. Chem. |
| Short Title | JEC |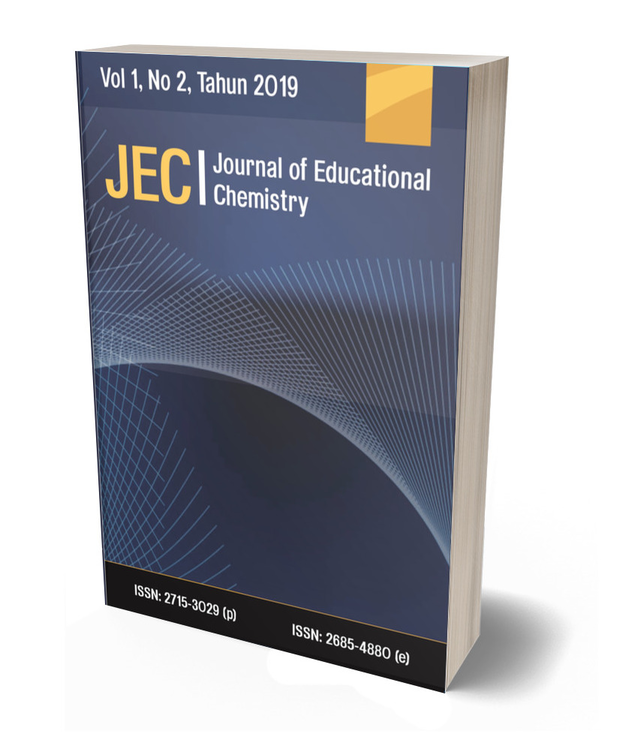 Journal of Educational Chemistry (JEC) is a journal managed by Program Studi Pendidikan Kimia Fakultas Sains dan Teknologi Universitas Islam Negeri Walisongo Semarang (the Chemistry Education Department of Science and Technology Faculty, Walisongo State Islamic University).
This Journal aims to accommodate all the writings of theoretical studies and research in the field of chemical education. This journal is published twice a year (June and December). Researchers and educational practitioners are welcome to disseminate their writings through this journal. Scope of writings published in this journal include: Learning chemistry, Evaluation of chemistry education, Chemistry education policy, and Integrating islamic value in chemistry education
Vol 4, No 1 (2022)
Published: 2022-06-21
chrome_reader_mode Table of Contents
Articles
Abstract: 134 Times
PDF: 31 Times

1-8

Abstract: 77 Times
PDF: 26 Times

9-18

Abstract: 82 Times
PDF: 10 Times

19-30
No announcements have been published.
contact_mail Principal Contact
Chemistry Education Department Science and Technology Faculty Walisongo State Islamic University
Jl. Prof. Dr. Hamka KM. 01 Ngaliyan Prodi Pendidikan Kimia Fakultas Sains dan Teknologi UIN Walisongo Semarang