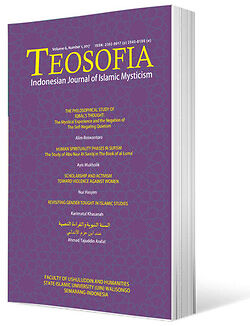 Teosofia: Indonesian Journal of Islamic Mysticism (e-ISSN: 2540-8186 p-ISSN: 2302-8017) is a double blind-reviewed journal, published twice a year by Faculty of Ushuluddin and Humanities, State Islamic University (UIN) Walisongo Semarang Indonesia. 
This journal provides a scholarly forum for sustained discussion of Islamic Mysticism and covers Humanities studies; Philosophy, Critical Thought, Cultural Studies, Art, Sociology, Anthropology, and Ethics. It presents developments of the related issues through publication of articles as well as book reviews. The subject covers textual and fieldwork studies with various perspectives of Mysticism, Islamic Mysticism, Religious Mysticism, Sufism, Tasawuf, and Humanities Studies. This journal warmly welcomes contributions from scholars of related disciplines.
This journal has been indexed by:
Vol 10, No 1 (2021)
Published : 2021-04-22
chrome_reader_mode Table of Contents
Articles
No announcements have been published.
contact_mail Principal Contact
Editor in Chief