International South Asia Islamic Education Journal.
Nadwa: Jurnal Pendidikan Islam (Islamic Education Journal) ISSN 1979-1739 (print), ISSN 2502-8057 (online) is an International and professional refereed journal in the interdisciplinary fields that relevant to Islamic education research. The journal is published by Fakultas Ilmu Tarbiyah dan Keguruan (FITK) (Faculty of Islamic Education and Teacher Training), Universitas Islam Negeri Walisongo Semarang, Indonesia. The journal is committed to publishing high-quality articles in English ranging from original research papers in the areas of Islamic Education studies. The topics may include but are not limited to Islamic philosophy, comparative studies on Islamic education and Muslim societies, Arabic Education, curriculum, teaching and learning in Islamic education, evaluation, Islamic education for indigenous groups, and special education from the Islamic perspective. The journal focuses in particular on the research around Islamic education and moderation in South East Asia.
.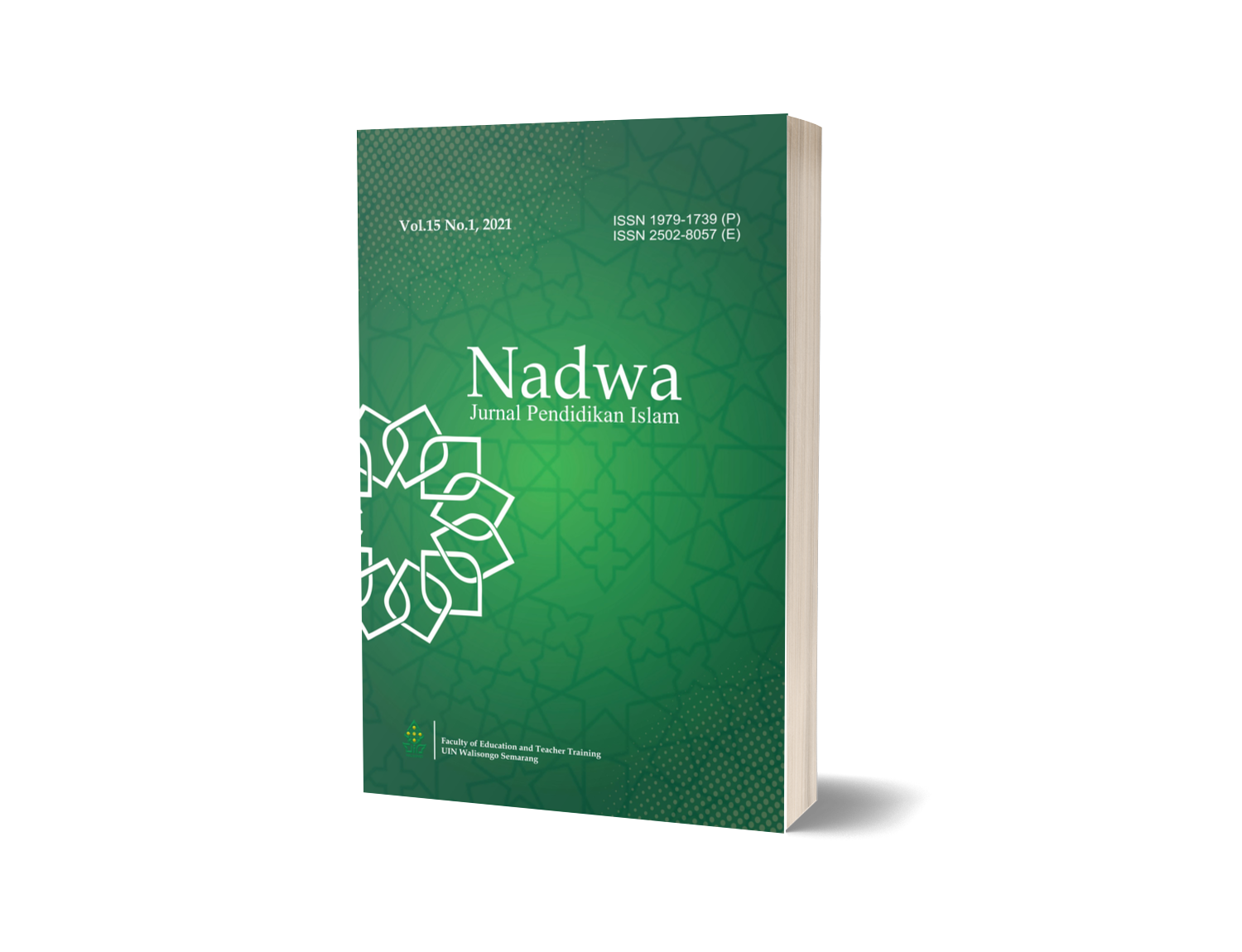 Announcements
Call For Papers: Call For Papers Vol. 14 No.1 2020

Islamic education and radicalism

 



Posted: 2019-12-11
More...
Vol 13, No 2 (2019): Islamic Education and Trancendence
Table of Contents
Articles
| | | |
| --- | --- | --- |
| | Badrudin Badrudin | 179 - 204 |
| | | |
| --- | --- | --- |
| | Rahmat Ryadhush Shalihin, Hendro Widodo | 219 - 234 |
| | | |
| --- | --- | --- |
| | Hafnidar Hafnidar, Rosnidar Mansor, Suppiah Nichiappan | 235 - 250 |
| | | |
| --- | --- | --- |
| | Supa'at Supa'at, Khilman Rofi Azmi | 295 - 314 |
| | | |
| --- | --- | --- |
| | Muhammad Saifullah, Sofa Muthohar, Sayyidatul Fadlilah | 337 - 358 |