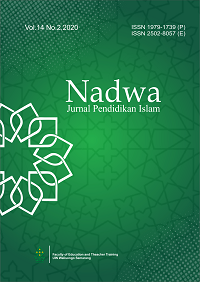 Nadwa: Jurnal Pendidikan Islam (Nadwa: Islamic Education Journal) (ISSN 1979-1739 and E-ISSN 2502-8057) pursues the academic exploration on Islamic education discourses in Southeast Asian schools, colleges, universities, and other Islamic educational institutions such as pesantrens (Islamic boarding schools). The journal promotes empirical research and theory relevant to Islamic affiliated educational institutions. The topics of the journal cover the micro, meso, and macro levels of Islamic education such as the philosophy of Islamic education, Islamic school leadership, and the politics of Islamic education.
The journal is published by Fakultas Ilmu Tarbiyah dan Keguruan (Faculty of Islamic Education and Teacher Training), Universitas Islam Negeri Walisongo Semarang, Indonesia (Walisongo State Islamic University).
Vol 14, No 2 (2020): Islamic Education in Challenging Times
Published : 2020-12-31
This issue provides timely research on Islamic Education in Challenging Times by discussing the issue of Islamic Education and COVID 19, radicalism, and other contested issues. It seeks to bring together scholars, educators, policymakers and practitioners to collectively and critically identify, investigate, and share best practices that lead to rethinking and reframing the way we deliver Islamic education in these uncertain times
chrome_reader_mode Table of Contents
Articles
No announcements have been published.
contact_mail Principal Contact
Editor in Chief
Fakultas Ilmu Tarbiyah dan Keguruan (Faculty of Islamic Education and Teacher Training) Universitas Islam Negeri Walisongo (Walisongo State Islamic University), Semarang, Indonesia

Jl. Prof. Dr. Hamka (Kampus II), Ngaliyan Semarang Indonesia