Psikohumaniora: Jurnal Penelitian Psikologi (translated in English: Psikohumaniora: Journal of Psychological Research) is a research journal published by Program Studi Psikologi, Fakultas Psikologi dan Kesehatan, Universitas Islam Negeri Walisongo Semarang, Indonesia (the Department of Psychology, Faculty of Psychology and Health, Walisongo State Islamic University Semarang, Indonesia). This journal is published twice per year, featuring mainly the latest studies of humans and humanity using comprehensive approaches. This journal is a medium for the dissemination of the findings of psychological researches, aiming always to serve psychological study forums across Indonesia and other parts of the world this journal first published in November 2016 and is accredited by the Ministry of Research, Technology, and Higher Education of the Republic of Indonesia (Kemenristekdikti), on the 2nd level (Sinta 2) by virtue of Ministerial Decree No. 10/E/KPT/2019. This journal is indexed in reputed indexing databases like DOAJ, Google Scholar, Moraref, Sinta Ristek Dikti, One Search Indonesia, and EBSCO. Being a member of CrossRef, Psikohumaniora guarantees that all of its featured articles bear a unique DOI number. 
ISSN 2502-9363 (print media)
ISSN 2527-7456 (online media)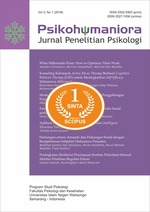 This journal has been indexed by:

Vol 5, No 1 (2020)
Published : 2020-04-30
chrome_reader_mode Table of Contents
Articles
Announcement is disabled for this moment.
contact_mail Principal Contact
Editor in Chief
Fakultas Psikologi dan Kesehatan Universitas Islam Negeri (UIN) Walisongo Semarang
Psikohumaniora: Jurnal Penelitian Psikologi
Program Studi Psikologi Fakultas Psikologi dan Kesehatan
Universitas Islam Negeri (UIN) Walisongo Semarang
Jl. Prof. Dr. HAMKA, KM 2 Semarang, Central Java, Indonesia