Journal Information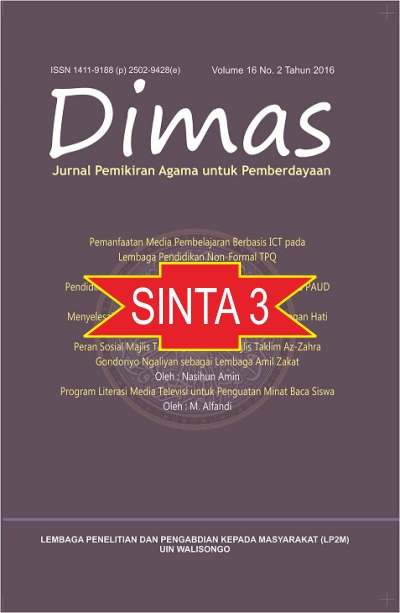 ---



---
Dimas: Jurnal Pemikiran Agama untuk Pemberdayaan is a social-religious research journal published by Institute for Research and Community Services (LP2M), UIN Walisongo Semarang. The focus of this journal is to disseminate research results based on community services, increasing the capacity of society and community empowerment, and innovations of community empowerment in all districts around Indonesia. This journal covers textual and fieldwork studies on those issues from various fields including law, economy, social, philosophy, history, mysticism, art, theology, and others.
In February 2020, this journal underwent a change in the composition of the editors and improved author guidelines and article templates. 
---
Organization Partners
Dimas: Jurnal Pemikiran Agama untuk Pemberdayaan collaborates with Asosiasi Jurnal Pengabdian Pada Masyarakat (AJPKM).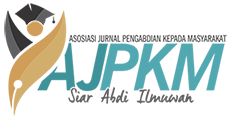 ---
This journal has been indexed by:
---
Vol 22, No 2 (2022)
Published: 2022-10-31
chrome_reader_mode Table of Contents
Articles
Abstract: 208 Times
PDF: 203 Times

165-180

Abstract: 237 Times
PDF: 141 Times

201-216

Abstract: 319 Times
PDF: 162 Times

239-258

Abstract: 152 Times
PDF: 80 Times

259-284

Abstract: 165 Times
PDF: 110 Times

285-300

Abstract: 174 Times
PDF: 63 Times

301-320

Abstract: 146 Times
PDF: 61 Times

321-348

Abstract: 188 Times
PDF: 73 Times

349-366

Abstract: 246 Times
PDF: 199 Times

217-238

Abstract: 246 Times
PDF: 112 Times

181-200
Dimas: Jurnal Pemikiran Agama untuk Pemberdayaan
Mulai Vol 23 No 1 tahun 2023, Dimas: Jurnal Pemikiran Agama untuk Pemberdayaan Universitas Islam Negeri Walisongo akan terbit dalam bahasa Inggris. Dengan demikian, para penulis diperbolehkan submit artikel dalam bahasa Indonesia, khususnya yang meminta jasa penerjemahan artikel ke dalam bahasa Inggris; disarankan penerjemahan dilakukan setelah artikel dinyatakan diterima.
Penulis dapat memilih penerjemah sendiri atau menyerahkannya kepada redaktur/tim penerjemah Jurnal Dimas UIN Walisongo. Biaya ditanggung oleh penulis.
Artikel yang disubmit dalam bahasa Inggris diharuskan menyertakan sertifikat terjemah oleh penerjemah profesional.
contact_mail Principal Contact
Editor in Chief
UIN Walisongo, Semarang, Indonesia