Dimas: Jurnal Pemikiran Agama untuk Pemberdayaan is a social-religious research journal published by Institute for Research and Community Services (LP2M), UIN Walisongo Semarang. The focus of this journal is to disseminate research results based on community services, increasing the capacity of society and community empowerment, and innovations of community empowerment in all districts around Indonesia. This journal covers textual and fieldwork studies on those issues from various fields including law, economy, social, philosophy, history, mysticism, art, theology, and others.
In February 2020, this journal underwent a change in the composition of the editors and improved author guidelines and article templates.
ISSN (p) 1411-9188   ISSN (e) 2502-9428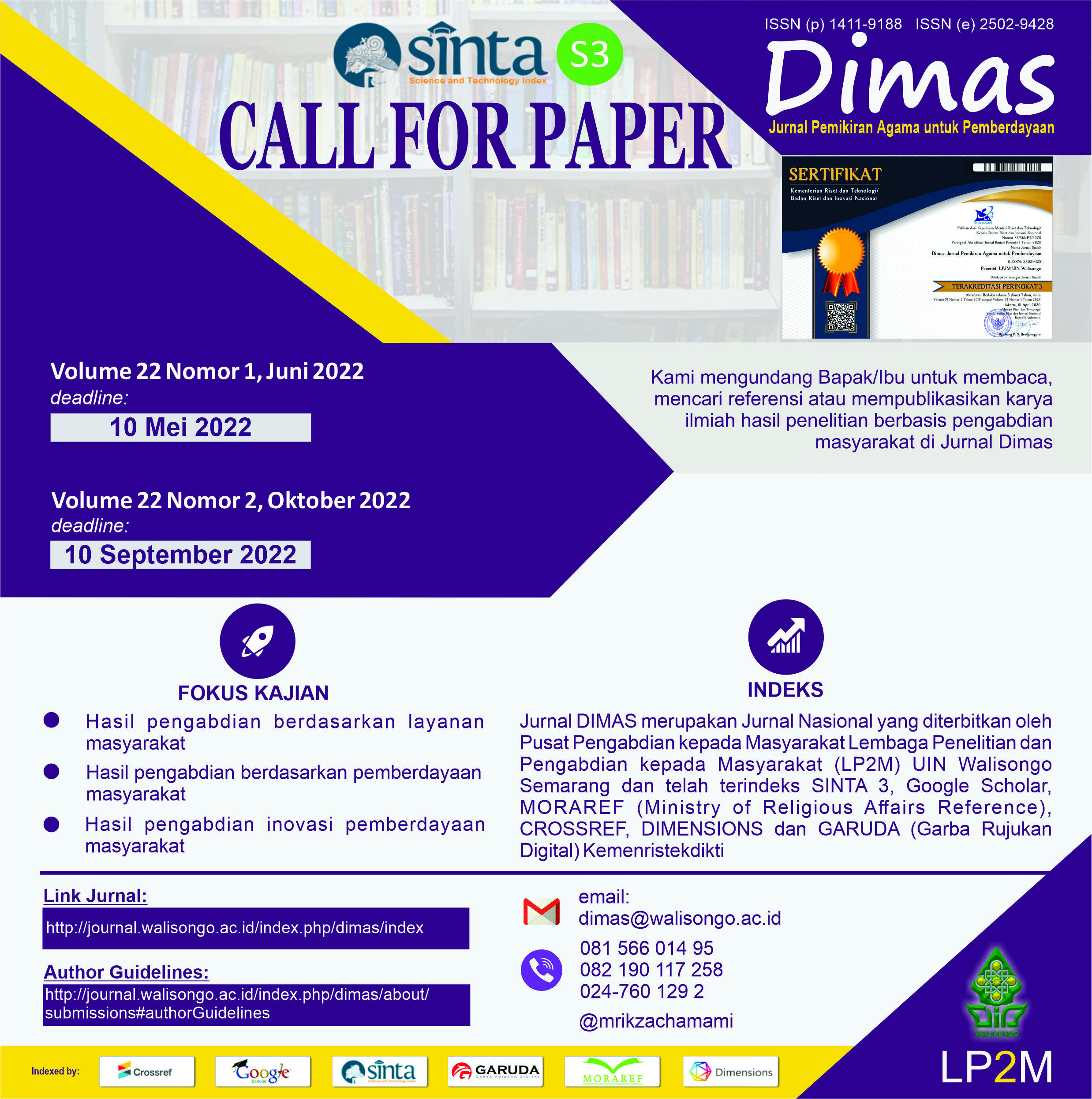 Vol 21, No 2 (2021)
Published: 2021-10-01
chrome_reader_mode Table of Contents
Articles
Abstract: 183 Times
PDF: 194 Times

153-166

Abstract: 123 Times
PDF: 66 Times

167-194

Abstract: 138 Times
PDF: 170 Times

195-208

Abstract: 102 Times
PDF: 78 Times

209-220

Abstract: 72 Times
PDF: 59 Times

221-232

Abstract: 124 Times
PDF: 95 Times

233-256

Abstract: 102 Times
PDF: 78 Times

257-274

Abstract: 81 Times
PDF: 97 Times

275-296

Abstract: 66 Times
PDF: 53 Times

297-322

Abstract: 88 Times
PDF: 82 Times

323-339
Announcement is disabled for this moment.
contact_mail Principal Contact
Editor in Chief
UIN Walisongo, Semarang, Indonesia