Journal Information
---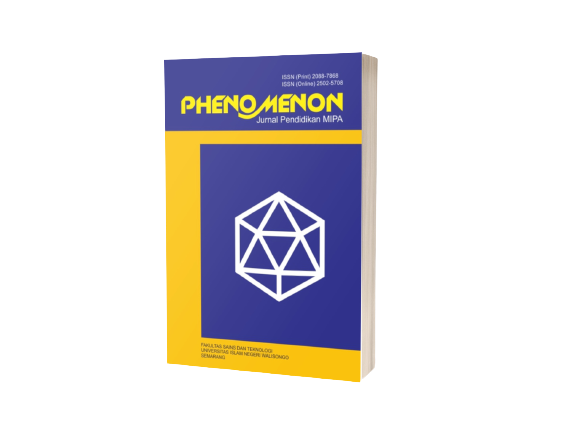 ---
Phenomenon: Jurnal Pendidikan MIPA (en: Phenomenon: Journal of Science and Mathematics Education) is a research-based science dan mathematic education journal published by Faculty of Science and Technology, Universitas Islam Negeri Walisongo, Semarang, Indonesia. The journal is dedicated to developing studies of science and mathematics education by diffusing research backed by solid empirical evidence. It is hoped that it will provide a reference and guidance to enhance people's pedagogical potential in science and mathematics education, as well as offering adaptive strategies for preventing and reducing the risks of pedagogical problems. In the long run, the journal is expected to have a positive impact on individuals and the community.
The journal was first published in 2011 and has been accredited by the Ministry of Research and Technology/National Research and Innovation Agency of Republic Indonesia and earned the Third Grade (SINTA 3) in 2019 based on Decree No. 36/E/KPT/2019, valid until 2023. This journal has been indexed on reputable indexing databases such as DOAJ, Copernicus, Moraref, Google Scholar, etc.
Vol 11, No 2 (2021): Jurnal Pendidikan MIPA
Published: 2021-12-26
chrome_reader_mode Table of Contents
Articles
Abstract: 254 Times
PDF: 212 Times

127-144

Abstract: 77 Times
PDF: 84 Times

145-156

Abstract: 198 Times
PDF: 276 Times

157-168

Abstract: 179 Times
PDF: 144 Times

169-188

Abstract: 146 Times
PDF: 118 Times

189-202

Abstract: 75 Times
PDF: 60 Times

203-216

Abstract: 79 Times
PDF: 64 Times

217-230

Abstract: 132 Times
PDF: 134 Times

231-244

Abstract: 117 Times
PDF: 100 Times

255-269
No announcements have been published.
contact_mail Principal Contact
Editor in Chief
Faculty of Science and Technology UIN Walisongo Semarang