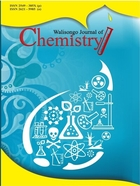 Walisongo journal of chemistry is a peer reviewed and open access journal published by Chemistry Department, Faculty of Science and Technology, Universitas Islam Negeri Walisongo Semarang-Indonesia.
This journal specifies in ten fields of pure chemistry, that are organic, inorganic, physical chemistry, analytical Chemistry, environmental chemistry, chemometrics and computational chemistry, food and natural product chemistry, pharmaceutical chemistry, biochemistry, and also material and biopolymer.
This journal publish two issues annually (on July and December). Article which accepted in this journal can be written in Bahasa or in English Language.
Vol 3, No 1 (2020): Walisongo Journal of Chemistry
Published : 2020-08-14
chrome_reader_mode Table of Contents
Articles
No announcements have been published.
contact_mail Principal Contact
Department of Chemistry, Faculty of Science and Technology, Walisongo State Islamic University
Jalan Prof. Dr. Hamka (Campus 2), Ngaliyan, Semarang, Central Java-Indonesia 50185

Walisongo Journal of Chemistry (WJC) is indexed by